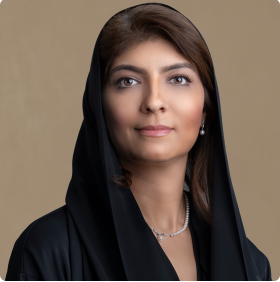 H.E. Dr. Bushra Al Mulla
Director General of The Family Care Authority
The establishment of the Family Care Authority (FCA) comes in line with the vision of the Department of Community Development (DCD) in Abu Dhabi, which aims to achieve a dignified life for all members of society in Abu Dhabi.
The authority will complement the efforts made by the department to enhance family cohesion and stability and establish the foundations for an integrated governance model that is built to manage families' cases by providing family care services through a single point of contact. FCA will develop a unified and up-to-date database and register of all beneficiaries.
Over the coming months, FCA will align the roles and initiatives of public-, private- and third-sector institutions to more efficiently utilise individual and institutional knowledge and expertise in the social sector to further improve the quality of family care services. It will also conduct research and surveys, as well as related legislation and programmes, and launch initiatives together with DCD to provide better services and empower families, children, and youth. All these efforts are in alignment with the directions and aspirations of the leadership for the next 50 years.
FCA is committed to generating awareness about the role of the family in society. Campaigns have been planned in coordination with the relevant authorities to instill noble values and principles among individuals, enhance national identity and boost their sense of belonging to the UAE.